Multifunctional port with docks for ferries and hydrofoils to the Aeolian Islands, lo / lo commercial activity. The port is located at the root of the peninsula of the same name and is included in the bay that opens to the east of the aforementioned peninsula. The port perimeter measures 2,500 meters and contains a single basin. The linear development of its quays is a total of over 1600 (depth 6/12 meters in further expansion).
Banchine Milazzo
Banchina XX Luglio
Dente XX Luglio
Pontile Eolie
Banchina Luigi Rizzo
Pontile Aliscafi
Molo Marullo
Molo Foraneo
Banchina dei Mille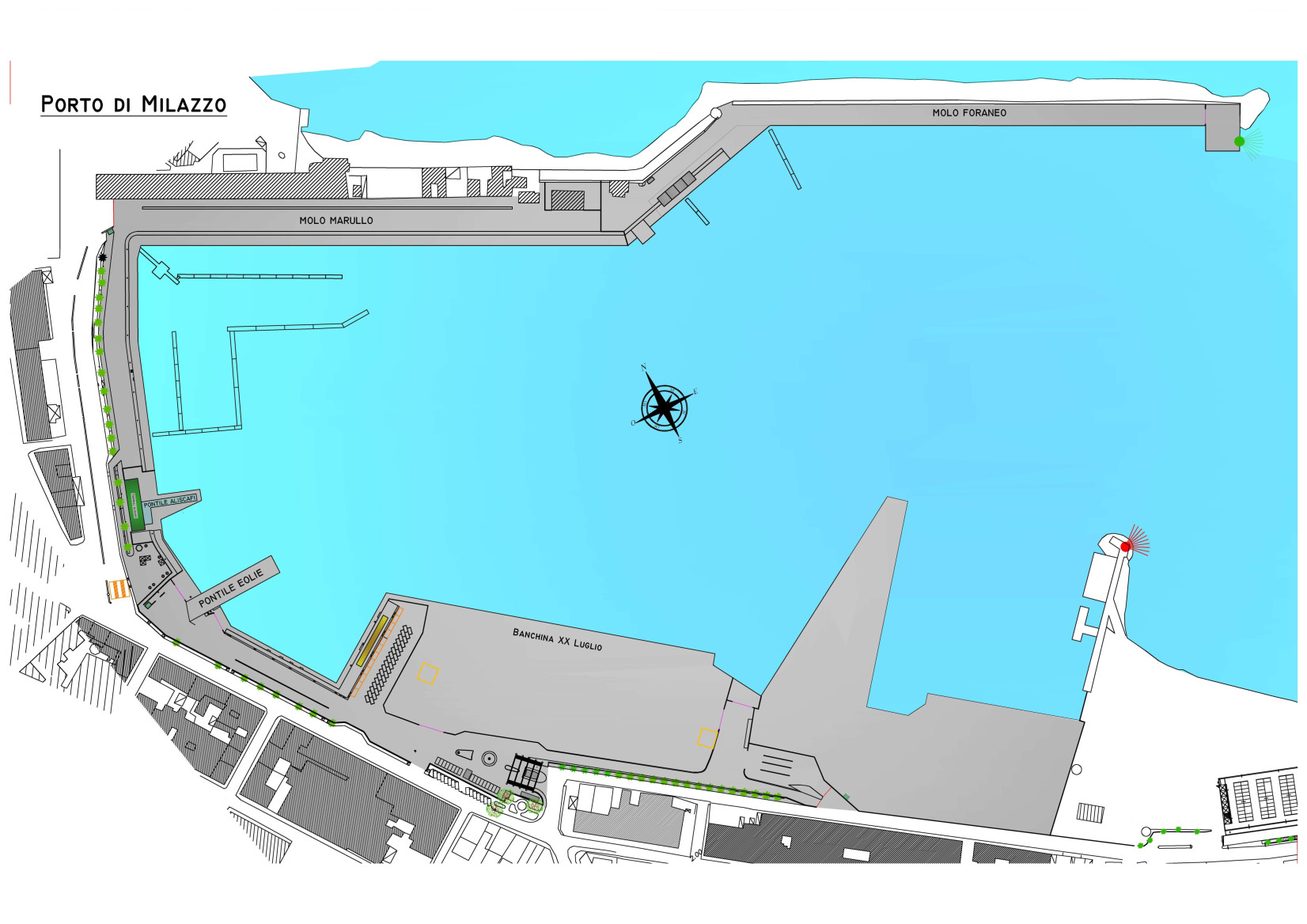 Banchina XX Luglio
Lunghezza: 550 m
Pescaggio: da 8 a 10 m
Pontile Eolie
Lunghezza Pontile Nord: 56 m
Lunghezza Pontile Sud: 48 m
Pescaggio: da 8 a 10 m
Banchina Luigi Rizzo
Lunghezza: 210 m
Pescaggio: da 7 a 9 m
Molo Marullo
Lunghezza: 340 m
Profondità: da 6 a 7 metri
Molo Foraneo
Larghezza: 430 m
Profondità: da 6 a 12 m
The entrance to the port is indicated by an intermittent green light at the head of the breakwater, at the end of the breakwater there is a structure in the shape of a candlestick that supports a fixed red light. All piers are well lit throughout their length. On the north end of Capo Milazzo there is a white flashing light placed on a white tower.
| Dock | Length (m) | Draft (m) |
| --- | --- | --- |
| Foraneo | 430 | 12-6 |
| Marullo | 340 | 7-6 |
| Luigi Rizzo | 210 | 9-7 |
| Pontile Eolie Nord | 56 | 8-5 |
| Pontile Eolie Sud | 48 | 8-5 |
| XX Luglio | 550 | 10-8 |